BCP / DRP manages risks from external and internal shocks.
BCP increases the availability of the organization always having it in operation.
The DRP reduces losses associated with a crisis or disaster.
Improved adaptability to any problem affecting continuity.
Features
EXE develops the operating continuity plan covering the needs of the organization under the best methodology and continuous risk analysis, ensuring normal delivery of services and / or products.
The service features a full analysis of all assets of the organization and identifying those critically needed for functionality in the delivery of services or products.
Moreover, the DRP allows the company to continue operating, either selling products or providing services, after a disaster has occurred. Is the continuation to the letter of the BCP.
Con el DRP, it has a contingency scenario allows Business Continuity.
For every dollar invested in BCP, are anticipated 7 loss dollars.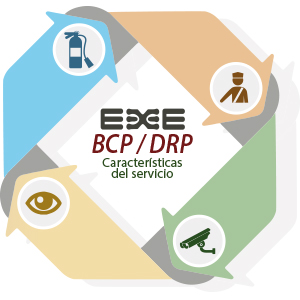 Plans Sale
| | Express | Executive | Full |
| --- | --- | --- | --- |
| analysis B.I.A. | X | X | X |
| report B.I.A. | X | X | X |
| Risks evaluation | | x | x |
| Design solutions | | | X |
| Implementation of BCP | | | X |
Success Stories
IPS asegura su continuidad The Social Security Institute (IPS) He did not have any backup or contingency plan for any eventuality that may happen both in their building and their persons or their teams. This caused him problems contingency management, availability of critical infrastructure and SLA management with IT service providers and support. That is why the Security EXE team implemented a full service EXE BCP / DRP, including analysis, design and implementation of a Plan ... Seguir leyendo
Contact
For more information of this product, Please complete the following contact form: